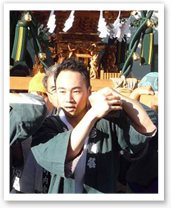 Parliamentarian SUZUKI, Keisuke was born in London, UK in February 1977, where his father worked for a Japanese bank. After six years, his parents moved back to Tokyo, Japan, where he went to primary school and secondary school.
Keisuke studied political science and international law at University of Tokyo's Faculty of Law and graduated with a Bachelor of Laws degree in 1999. However, his main interest was rowing on the university's rowing team, and he also played American football.
Just after graduating from university, Keisuke started his career as a government official for the Ministry of Finance (MOF). At MOF, he mainly worked in the International Finance Division and the Development Policy Division. He also worked as an Examiner of Fukuoka Regional Taxation Bureau in Fukuoka, Japan.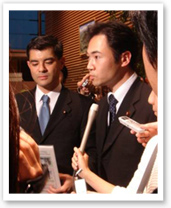 On the morning of September 11th, 2001, Keisuke was living in Pentagon City, Virginia. During this time, he was a visiting fellow at Georgetown University's Walsh School of Foreign Service.
After finishing his fellowship, Keisuke served as the Vice Council and Financial Attaché at the Consulate General of Japan in New York City. Then he served as the Policy Section Chief for the Employment Measures for the Elderly Department and the Department of Health and Welfare for Persons with Disabilities in the Ministry of Health, Labour, and Welfare.
In August 2005, Keisuke left MOF and ran for the general election as a parliamentarian candidate with the Liberal Democratic Party (LDP). Since then, he has been serving as a member of the House of Representative in the National Diet of Japan. Currently, he is in his fifth term as a parliamentarian (2005, 2012, 2014, 2017, and 2021).
During Keisuke's political career, he served as the Parliamentary Vice-Minister for the Ministry Land, Infrastructure, Transport, and Tourism; and the Cabinet Office from 2014 to 2015. He also served as the State Minister for the Ministry of Finance and Ministry of Foreign Affairs from 2018 to 2020. Keisuke was the head of the LDP's Youth Division from 2016 to 2018. He was appointed as the ranking member on the Committee on Foreign Affairs in 2013, the Committee on Rules and Administration in 2021; and he served as a member on the Committee on Financial Affairs in 2020. Within the LDP, he has served on a variety of postings to include the Deputy Director-General of the International Bureau.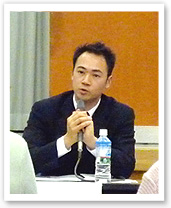 Keisuke is known for being the principal member on working teams involved with North Korean issues, Structural Reform of Budget (road construction), and Corporate Tax Reform. He belongs to the former Prime Minister Aso's group.
Keisuke lives in Yokohama where he represents the Kanagawa 7th District as a member of the House of Representatives. He is also a member of the Policy Council and the Japan Forum on International Relations.